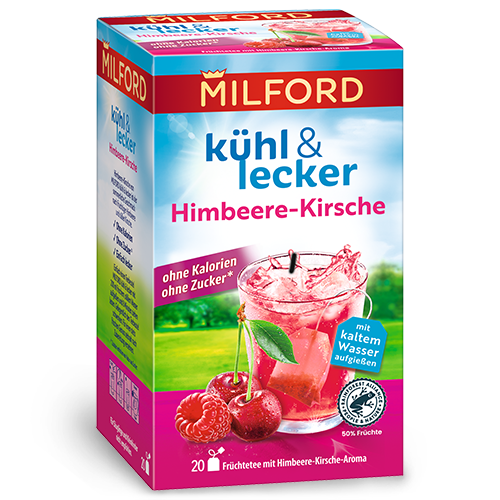 Milford tasty
Raspberry Cherry
Fruit infusion flavoured with raspberries and cherries
MILFORD kühl & lecker Raspberry Cherry is the summery taste of delicious raspberries and sweet cherries.
Not suitable for infants or young children.
Water temperature
Pour fresh, still water over the teabag.
Brewing time
Let the tea draw for 8 minutes so the full taste develops and you have a safe food product.
Your enjoying moment
For ice-cold refreshment, kühl & lecker is a different kind of tea! Just pour on cold water, let it draw – and enjoy its fruity refreshment! Without any calories, yet with plenty of taste.
Ingredients:
Hibiscus, apple, rosehips, flavouring, stevia, raspberries, cherry juice granulate (maltodextrin, cherry juice concentrate).
20 x 2,5g teabags (50g) | Store in a dry place, protected from heat.