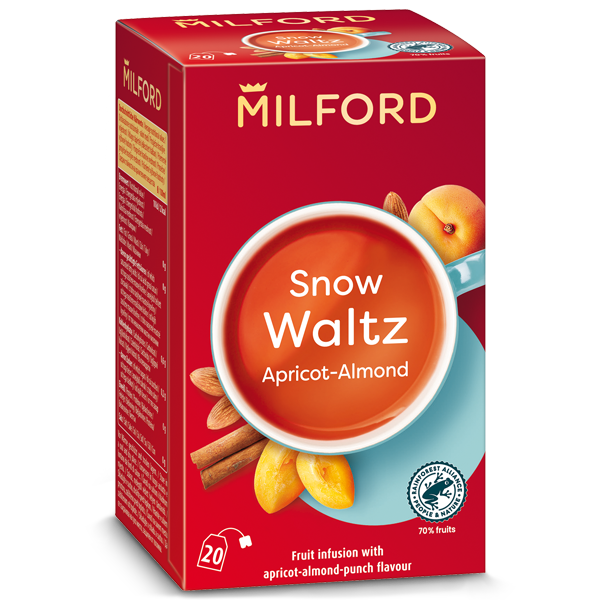 Snow Waltz – Fruit Infusion with Apricot-Almond Punch Flavour
Früchtetee aromatisiert Aprikose-Mandel- Punsch-Geschmack
After doing a Snow Waltz on the ice, what could be better than warming up again with a hot cup of tea? Feel invited to dance with our winter-sweet blended fruit tea with its refined punch flavours! Its taste of apricots, almonds and a hint of cinnamon will not just get your heart singing, it will also get your taste buds beating in three-four time.
Water temperature
Bring fresh water to the boil and pour it straight from the kettle over the tea.
Brewing time
Let the tea draw for 8 minutes so the full taste develops and you have a safe food product.
Ingredients:
Hibiscus*, rosehips*, apple*, orange peel*, flavouring, cinnamon* (5%), stevia, sweet blackberry leaves, apricot juice granulate (maltodextrin, apricot juice concentrate). *40% of this product was produced by UEBT/UTZ certified farmers. www.utz.org www.uebt.org
20 x 2,25g teabags (45g) | Store in a dry place, protected from heat.